28 Jul

WATCH: Babar Azam's encouraging speech for teammates after Test victory against Sri Lanka

[ad_1]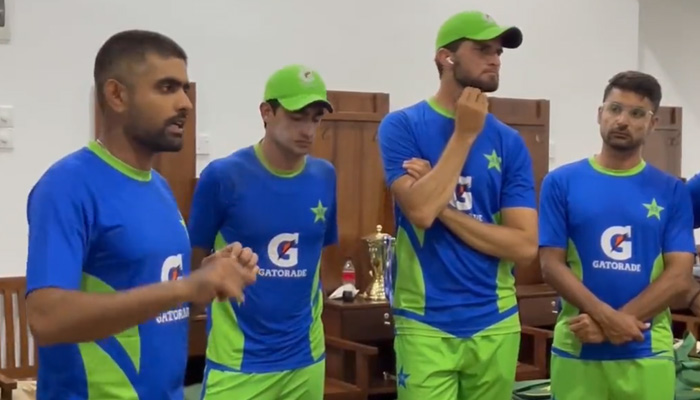 Babar Azam, Pakistan captain, congratulated his teammates for their incredible win against Sri Lanka in the two-match Test series in Colombo.
During his post-victory speech in the dressing room, the skipper commended his fellow players, lauding their performance in an encouraging manner on Thursday.
"Congratulations. I think winning a Test series in Sri Lanka is very difficult," Babar said, encouraging the boys in his team.
The captain praised the combined efforts of the team, adding that the victory was not accredited to one person's efforts but to everyone's hard work.
Addressing former skipper Sarfaraz Ahmed, who couldn't continue playing the second Test match after being retired hurt, the 28-year-old said that his health was more important to the team than making him play the match.
He further expressed admiration for his predecessor who, according to him, was willing to continue playing despite being hit on his head by a ball.
"I admire the way you are always ready for anything, no matter what," the young captain told his senior.
He also showered praises on pacer Noman Ali for clinching a spectacular seven wickets during the match, sending Sri Lankan players back to the pavilion.
"Nomi Bhai, well bowled. We needed the way you bowled and showed the spinning," he said as the others clapped in celebration.
Babar also applauded pacers Naseem Shah and Shaheen Shah Afridi for their performances, commending that bowling was done using an old ball rather than a new one.
Addressing Naseem and Noman, the captain said it was through their spells in the middle overs that the Sri Lankans came under pressure.
He added that the team will decide how to perform a match and play the kind of cricket that they want to play, the kind of body language displayed on the ground and what they are thinking as a team when batting or bowling.
"We should not depend on any one person. We are all best and we will show it [through our performance] and have shown it already," Babar said.
He emphasised how the teammates must perform individually and not depend on a single person.
"We need to learn this as professionals. We have dominated through our cricket," the skipper said.
The captain also encouraged Saud Shakeel and Abdullah Shafique giving them confidence to perform better.
He told them there are good and bad days, but a smart cricketer knows well how to get through.
A day earlier, Pakistan claimed victory by 2-0 against Sri Lanka by an innings and 222 runs in the second Test following an incredible seven-wicket haul by Nauman Ali.
[ad_2]

Source link