15 Oct

Pak vs India: Pakistan head coach terms one-sided atmosphere 'unusual' in match

[ad_1]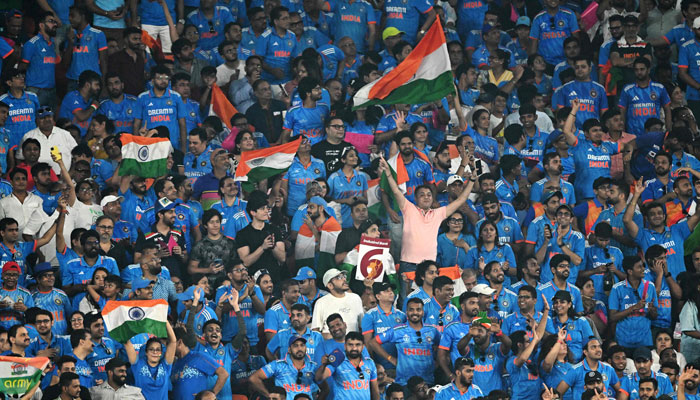 AHMEDABAD: After Pakistan lost its match against India in the ongoing ICC Men's Cricket World Cup 2023, the team's head coach, Grant Bradburn, termed the absence of Green Shirts' supporters a "sad" event, echoing the one-sided atmosphere comments by Mickey Arthur.
In the game, which took place at the Narendra Modi Stadium, India defeated Pakistan in front of 130,000 spectators and 99.9% of the crowd in the stadium was cheering for the Men In Blue.
Mickey, the Pakistan team's director, said the match didn't seem like an ICC event, but more like a bilateral series. "It seemed like a BCCI event."
On the other hand, Bradburn also shared similar views on the sidelines during the mixed-zone interaction. He said that was naturally going to be the case.
"We're really sad that our supporters aren't here. They would love to be here. And I'm sure Indian cricket fans would love to have our supporters here as well. So, it was certainly unusual that way," Bradburn said.
The former New Zealand cricketer added it did not feel like a World Cup game, in all honesty.
"But look, we didn't expect anything else. We loved the occasion. And we're disappointed that we didn't do justice to the occasion and justice to our how many fans at home and globally" the head coach maintained.
Speaking about the Green Shirts playing before an absolute India-cheering crowd, Bradburn said: "We've played probably in the biggest stadium in India, in front of 100% opposition crowd. So, those are good experiences that we'll take on board."
The coach said wherever the team goes in the World Cup next, it is not going to be as intimidating as it might have been for some. But he maintained it wasn't an issue for the boys.
"We wanted to really come and show our skills today and the saddest thing is that we left some of the skills in the shed," Bradburn added.
Replying to a question regarding Babar Azam-led side, Bradburn said that he would have liked the team to be a little bit more aggressive and the boys didn't play the brand of cricket he was expecting them to play.
He added that there was hurt in the dressing room.
"We didn't come here to lose, losing is not part of the plan. So, we'll reflect on that as we reflect on every game. We reflect when we won, and we reflect when we lose, we've reflected on two wins and now we'll reflect on a loss," he said.
The head coach reiterated the team's need to learn from their mistakes.
"I think, some of the skills that we know are in the boys had didn't come out today," he added.
[ad_2]

Source link