14 Oct

'Not ICC, it was a BCCI event,' Arthur on one-sided Ahmedabad colosseum atmosphere

[ad_1]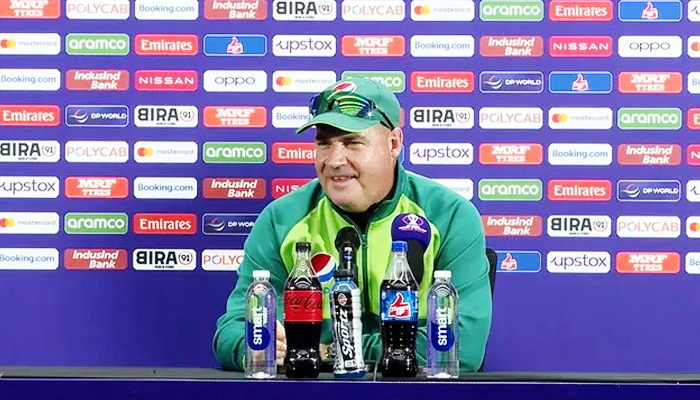 Pakistan's cricket team director Mickey Arthur Saturday took a dig at the one-sided atmosphere in the Narendra Modi Stadium in Ahmedabad after his team was beaten by India in the ICC Cricket World Cup match.
Speaking to the media following Pakistan's loss, Arthur said that it didn't seem like an ICC event, "instead, it seemed like a bilateral series; it seemed like a BCCI event".
"It didn't seem like an ICC event to be brutally honest. It seemed like a bilateral series; it seemed like a BCCI event. I didn't hear Dil Dil Pakistan coming through the microphones too often tonight," he said.
"But I'm not going to use that as an excuse because for us it was about living the moment, it was about the next ball and it was about how we were going to combat the Indian players tonight," he said.
Expressing his disappointment with Pakistan's performance, especially after they were in a promising position during the match, Arthur said that the Green Shirts were a bit timid tonight with their overall performance.
"I would have liked us to really take the game on just a little bit more. It's a massive occasion, as we know, but I think we just went into our shells just a little bit.
And to go from 155 for two, if it was, to 190-odd all out is just not on. Yeah, credit to India, I thought they bowled really well, but I just thought our performance was just a little bit timid," he said.
"I thought we were a little bit timid. I did think we could probably have taken on the Indian spinners just a little bit more. It was a wicket that didn't turn massively, and I thought we needed to put some pressure back. But again, they were building and building nicely."
"I think we've got to realise that there are two ways to always skin a cat. And we've had success by taking it deep and then cashing in at the back end. That's been our style, that's been our brand, but we didn't play the Pakistan Way tonight, and that was the disappointing aspect of it for me," he said.
Responding to a question about the approach of Pakistani batsmen, especially during the partnership between Babar Azam and Mohammad Rizwan, Arthur defended their style, but suggested they could have been more aggressive against the Indian spinners.
When asked about the longstanding record of Pakistan's losses to India in World Cup matches, Arthur emphasised that the team approaches every game with the intent to win and does not dwell on historical records.
Arthur maintained a positive outlook when asked about Pakistan's future in the tournament, emphasising the need for the team to remain calm and focused.
Regarding struggling players, Shaheen Afridi and Shadab Khan, Arthur mentioned that they are working on improving their confidence and addressing technical aspects behind the scenes.
"We've been doing a little bit of work behind the scenes. Look, it'd be remiss of me to discuss it out here, but we've been doing some work with them," Arthur said.
"For me, it's just about confidence. The key for us now is getting our players to remain calm. It's getting our players to focus on the next game, and it's to build them up and make sure that they go into that next game thinking they can run through a brick wall." 
[ad_2]

Source link