08 Sep

Martino: Messi return before Bolivia unlikely

[ad_1]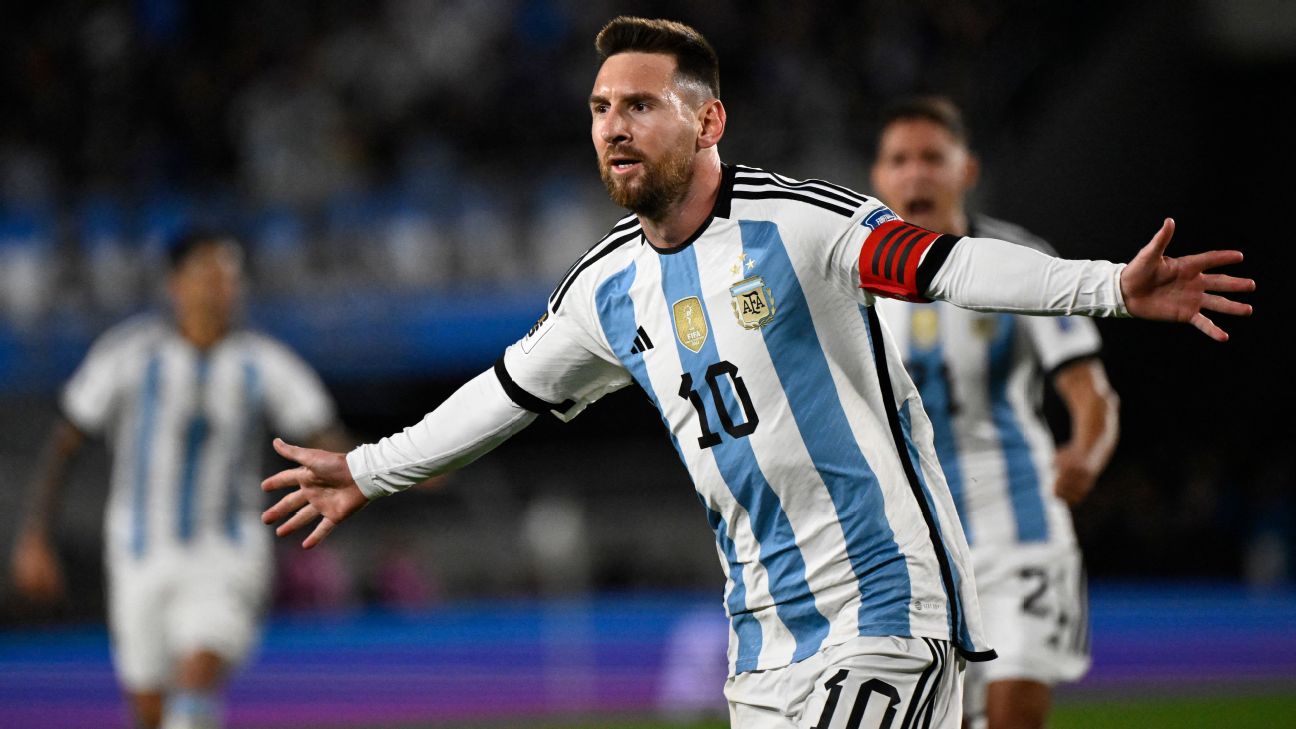 FORT LAUDERDALE, Fla. — Inter Miami CF coach Gerardo "Tata" Martino said Friday he doesn't think Lionel Messi sustained any kind of serious injury in Argentina's opening World Cup qualifying win over Ecuador on Thursday, but that he should know more soon regarding his star's status.
Messi scored on a trademark free kick before leaving with a minute remaining in the 1-0 victory.
"It does not seem like anything important," said Martino. "Some symptoms of fatigue, at least that's the information we have. We will know more today."
When asked after the game about Messi's atypical departure before the final whistle, Argentina coach Lionel Scaloni said Messi asked to be substituted because "felt something," while Messi himself said he was just "a little bit tired."
Argentina will face the daunting trip to high-altitude Bolívia on Tuesday before Messi is scheduled to be back in South Florida following the international break, along with many other teammates who will all miss Saturday's home MLS game against Sporting Kansas City while on duty with their countries.
When asked about the possibility of Messi not traveling to La Paz and returning to Inter Miami instead, Martino said he doubted that would happen.
"I wouldn't venture to say as of now," said Martino. "It is early. Today could be an important day [regarding that decision], but I don't imagine so if he has a chance to play against Bolivia."
Martino said Friday he has been ready for weeks for this game with a short-handed group and is hoping some lesser-used individuals step up.
"We know that on all squads this happens," said Martino. "There are players that play a lot more, others that play less that have to take advantage of these types of occasions.
"But it's also not true that the game depends exclusively on these players who are going to play more now. They need to make the best effort along with the rest. We've known about these absences since the new players arrived, so for the past 20 days we imagined we would be in this spot, so this is no surprise."
One pleasant surprise did come earlier this week when it was revealed that Martino will have red-hot goalkeeper Drake Callender at his disposal for the match, as the United States men's national team has allowed Callender to stay in South Florida and miss the team's friendly the same day against Uzbekistan in St. Louis.
He is expected to rejoin the USMNT before Tuesday's game against Oman in Minnesota.
And while Martino will certainly be missing many key contributors on Saturday, he is expected to have several frequent starters available for selection (along with Callender) in the form of Messi's former Barcelona teammates Sergio Busquets and Jordi Alba, center back Kamal Miller, full back DeAndre Yedlin and striker Leonardo Campana.
Recent young Argentine arrivals Facundo Farías — who scored in Sunday's 3-1 road win against LAFC — and Tomás Avilés, will also likely be in the starting 11.
"We have a very good team available to play Kansas City," said Martino. "We have the same hope of every game, with the expectation to be able to remain on this track and shorten the distance between us and the playoffs."
Inter Miami currently sits in 14th place in the MLS Eastern Conference, five spots and eight points off the final MLS Cup Playoff position, which is occupied for now by DC United.
A win over Sporting KC on Saturday could move them to within one point of the 13th-placed New York Red Bulls, who will not be in action this weekend and have lost three straight games, including a 2-0 defeat at the hands of Miami late last month.
Miami's following game will be at Atlanta United on Saturday, Sept. 16, and it may be difficult to see Messi starting that game only two or three days after arriving back in South Florida.
[ad_2]

Source link