27 Aug

Arshad Nadeem gears up for gold in World Athletics Championship

[ad_1]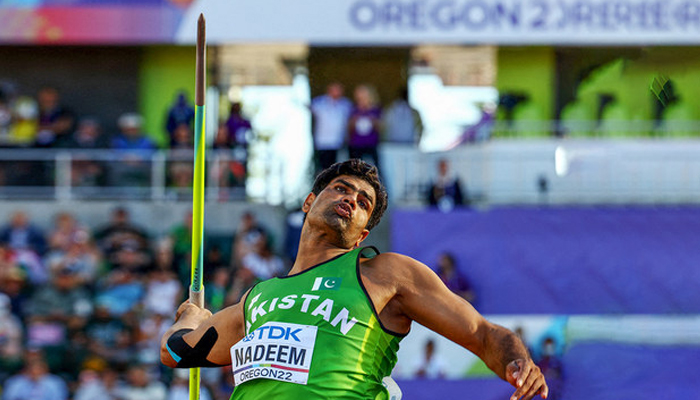 LAHORE: Pakistan's ace javelin thrower Arshad Nadeem is set to feature in the final of the men's javelin throw global event in Budapest, Hungary, on Sunday (today), where he will be aiming to claim the first-ever medal for the nation in the World Athletics Championship history.
The final, featuring 12 javelin throwers, will start at 11:15pm PST and already seems to be a battle for the gold between Olympic champion India's Neeraj Chopra and Nadeem. 
Both players qualified for the Paris Olympics 2024 due to their solid throws on Friday.
Arshad on Friday made a stunning comeback in the international circuit after battling injuries for one year when he managed a super throw of 86.79 metres, his career's third-best throw, to finish at the summit in Group B in the qualification stage.
Neeraj, on the other hand, managed an 88.77 metre throw in his first attempt to top Group A.
Arshad is very confident ahead of the grand finale.
"InshaAllah I will do my best," Arshad told The News.
"I am fit, thank God," said Arshad when asked by this correspondent whether he faces any fitness issue after the qualification stage.
Besides the India-Pakistan duo, Oliver Helander of Finland, Jakub Vadlejch of the Czech Republic, Ihab Abdel Rahman of Egypt, Edis Matusevicious of Lithuania, Julian Weber of Germany, and Timothy Herman of Belgium are such athletes who can pull off their best to change things in the final. They have glorious records with 89 metre-plus throws as their personal best.
This correspondent has learned that England-based Dr Ali Sher Bajwa is also accompanying Arshad. He is making every effort to keep him fit during the major event. Bajwa is the son of former national shot putter Tufail Bajwa.
Athletics Federation of Pakistan's (AFP) president Major General (retd) Mohammad Akram Sahi on Saturday hoped that Arshad would pull off his best in the final.
"The way he returned to the international circuit after a year was splendid. I expect he will engineer his personal best throw in the final tomorrow," Sahi told The News from Budapest.
Arshad's personal best is 90.18m which he had managed in the 2022 Birmingham Commonwealth Games.
"I am really happy that Arshad has proved his fitness and it's a big thing for Pakistan," said Sahi, also a former international athlete.
"He is in fine spirits and is completely focused on his job. Yes the pressure will be both on Chopra and Arshad. 
Chopra is Olympic champion and there will also be pressure on Arshad as it's a big battle. We have advised Arshad to keep cool and target his personal best which will land him on the victory stand," Sahi said.
He said that both the German and South African coaches who had trained both Arshad and Yasir Sultan, Pakistan's number two javelin thrower, also have been inspired by Arshad's good physique and the way he is performing.
"Yes both are here and Arshad's coach Salman Butt is in contact with both of them and they are very happy with the way Arshad is doing and the body he has," Sahi said.
Meanwhile, Arshad's coach Salman Butt told The News they trained on Saturday morning at the warm-up track as he was a bit soar from Friday's long physical engagement.
"He is feeling better and preparing for the competition on Sunday," Butt said.
The AFP also intends to send Arshad to Germany for training after the Asian Games which will be held in September in China. The AFP has also kept Arshad away from the media in order to help him focus on his task.
[ad_2]

Source link